The use of two stars as a design element in US logos increased by 170 percent in 2011 over the preceding five-year period. Looking back over time, we can see that, following a pronounced dip in the 1970's, logos with two stars have been claiming an increasing share of new trademark filings for the last three decades.
Logos with two stars, as a percentage of all logos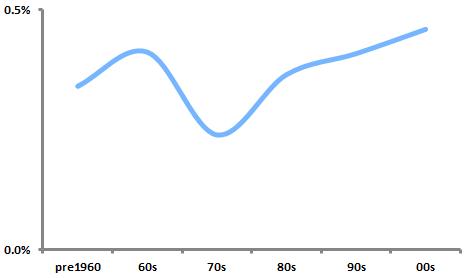 What explains this rise? Looking through US trademark registration images, it appears that many of the "two-star" logos employ a similar graphic device: the two stars are used as markers or dividers within a logo's circular border containing text. Analysis of US trademark data shows that the percentage of "two-star" logos that include a circular border element has increased sharply in recent years.
Logos with two stars in a circle, as a percentage of all logos with two stars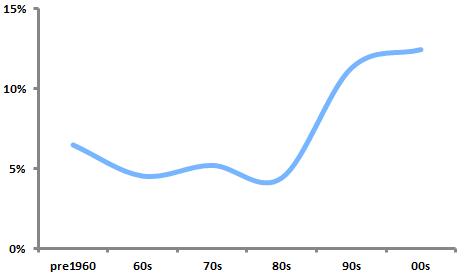 Consequently, logos with two stars in a circle have become more prevalent in general, with particular increases occurring in the 1990's and 2000's. 
Logos with two stars in a circle, as a percentage of all logos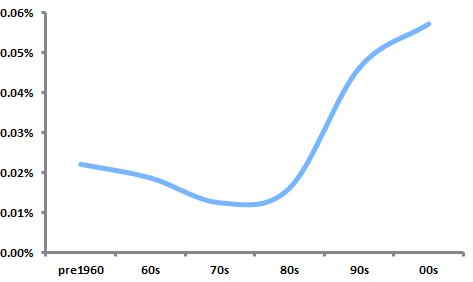 Of course, this graphic convention is nothing new; for instance, university seals have been employing it for decades:

But the recent popularity of this visual device may be attributable to perhaps the best-known logo to use it: that of Starbucks. The coffee chain first used the two stars in 1987 and retained them in its 1992 logo (below). It's not a stretch to attribute the rise of this logo design trend over the last couple of decades to the ubiquitous Starbucks siren.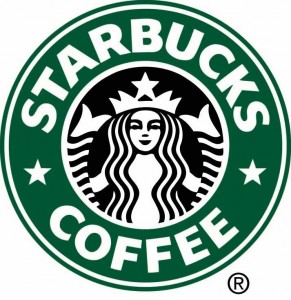 The Starbucks connection makes more sense when this logo design trend is examined in terms of the industries associated with the marks. Aside from the relatively small industry categories of firearms and yarns, the "two stars in a circle" design element appears most frequently in the logos of the hospitality industry (restaurants, bars, and hotels). Of course, in 2011 Starbucks famously dropped the circle and stars from its logo, so it would not be surprising to see this trend lose steam soon.