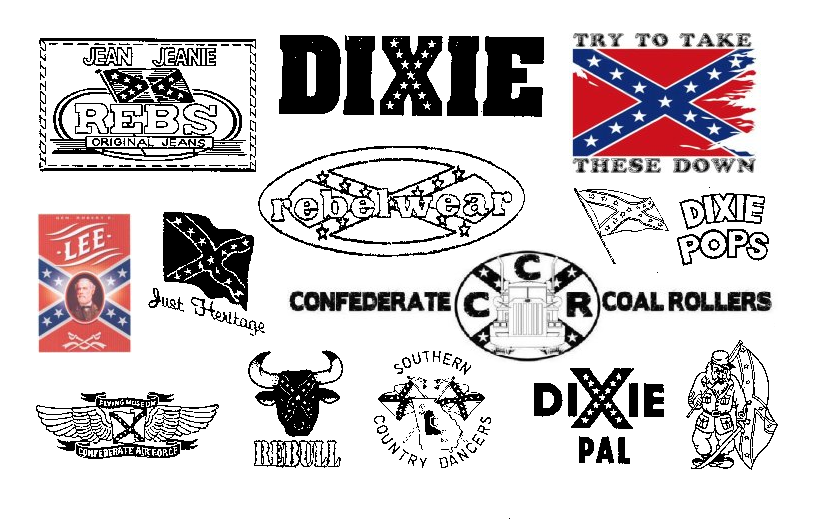 The horrific June massacre of nine African-American churchgoers in Charleston, South Carolina by a gunman with a fondness for the Confederate battle flag galvanized public opinion against the symbol, resulting in its removal from the state's capitol grounds after years of controversy. The perception of the flag as symbolic of racist hate seemed to gain traction against the competing view of it as a benign emblem of Southern heritage.
From a commercial standpoint, this was a debate that appears to have long since ended. The Confederate flag's use as a logo design element by US companies has dwindled to a low level, according to an analysis of United States Patent and Trademark Office records. Currently, there appear to be just eighteen active, or "live," US trademarks that feature Confederate flag imagery (by contrast, there are 1,938 active marks featuring the US flag). Tracking these flag logos over time is difficult, because USPTO records do not include marks that "died" prior to the 1980's. But of the 83 marks that can be identified in the USPTO database, most were owned by companies in the South, as shown on the map below, and 78 percent are no longer active, or dead.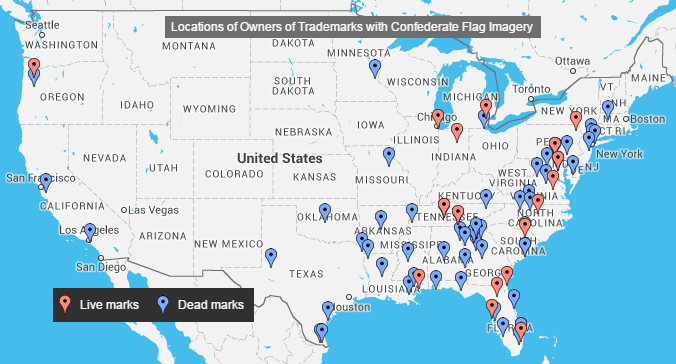 Of course, not all businesses officially register their marks with the USPTO, so there are other Confederate flag logos in use, including one that an Iowa bagged-ice company has said it will not abandon. But use of the flag in larger, mainstream contexts appears to have vanished.
Older USPTO records show the flag in logos for products like shrimp ("Taste of Dixie," 1991), mops ("Dixie Dust Control," 1981), boats ("Dixieland Marine," 1981), and blue jeans ("Rebel," 1984). But these marks are no longer active, just as, over the years, the Six Flags amusement park lowered the battle flag, the NASCAR Southern 500 race dropped it from its logo, and the country band Alabama stopped using the flag, which had adorned four of its album covers.

Today, use of the Confederate flag in logos is confined to a narrow group of business types. Of the 49 Confederate flag marks filed since 2000, over half (55%) represent clothing lines, such as the purveyors of lifestyle or novelty t-shirts seen below.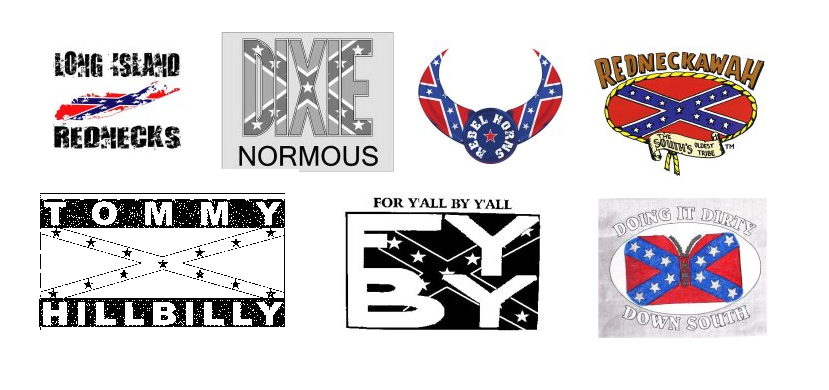 Interestingly, some of these marks have attempted to co-opt the flag as a symbol of African-American identity, in the manner of Kanye West.

Eighteen percent present the flag in an historical context, often in conjunction with the US flag.

Sixteen percent are associated with motorcycle clubs, where the "rebel" aspect of the flag's meaning is still appreciated.

The meaning of symbols, including words and logos, can change over time. If public opinion continues to turn against the Confederate flag, it is not inconceivable that logos featuring it might someday be denied trademark protection, in much the same way that National Football League's Washington team has seen its "Redskins" trademark canceled.